T.O.P. office disposes of an extensive experience in the field of research by design, be it initially by ventilating Proposals, but also in the "Scale & Perspective" projects and even in the container installations. Always striving for architecture with a low impact on the land reserves on earth, our expertise on research by design gradually widened and deepened, in particular since 1994 by focussing on the development of urbanistic projects with emphasis on a small footprint.
Usiebenpole 1994-95
A city extension for 150.000 (version 1) to 120.000 (version 2) inhabitants along a new public transport line on the 'Donau Insel' in Vienna.  This already elaborated project was the beginning of a long period that started from studies on infrastructural potentials. Housing here is provisionally foreseen in 150 or 120 "unités d'habitation". Core of the project is a new, "the seventh", metro line (missing link between Vienna and the airport). A monorail is suspended from a triple-deck bridge connected to the "rues intérieures" of the "unités".  The public space (or even forum) is distributed over several decks. Cars drive under a plinth in a tunnel-street with adjacent amenities.  The search for information on the amenities needed to feed such a new public spine and the way of distributing those amenities was the trigger to start 'The Unadapted City'.

Wien, Usiebenpole, Unités d'habitation with penthouses
The Unadapted City 1995-2004
This major research and design study started on possible urban amenities based on a certain amount of inhabitants.
First an atlas of urban facilities was made, composed of ten plates:
Hotel and catering
Social facilities
Medical facilities
Distribution
Sports, recreation and special facilities
Education
Universal and commercial services
Culture and entertainment.
Worship
Arts and crafts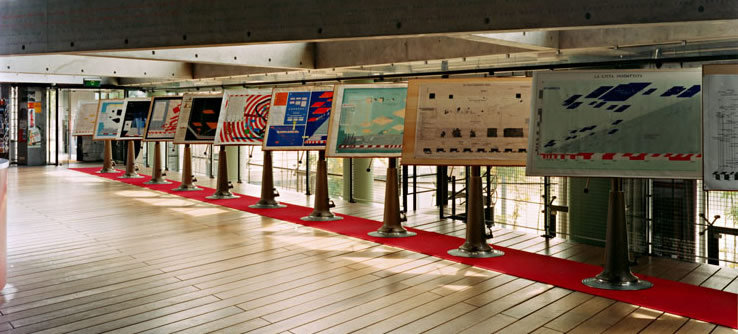 D.O.S. '95 - The Unadapted City, Installation at Netherlands Architecture Institute

Finally the data were put in a convenient spreadsheet application, TOPDOS, conceived as an instrument for concrete applications that calculates the amenities through the input of a number of inhabitants. Next, in order to master the complexity of the data, they were further translated in a standard graphic design,  the so-called "flags", showing the mutual proportion between different surfaces. Later their use was tested in designs for new districts for Cato Manor, Durban (South Africa), Wevelgem (Belgium) and for the urban remodelling of Meulestede, Ghent (Belgium).
The subsequent synthetic concept-designs under the generic title The Unadapted City are the very architectonic translation of the obtained data for amenities. With different models T.O.P. office developed an aleatory design method for such a complex program. The first model was Bing Bong (1996), an abstract, formal transformation of the Usiebenpole scheme, in fact a model of a model. Housing here is organized in an extruded, bent and folded, cut and pasted profile of  the "Cité Radieuse".  The project was abandoned but the second,  Brikabrak (1998, scale 1:333), took formal advantage of Bing Bong. It is a rough spatial study of a linear quarter for 9.500 inhabitants along a hovering forum to which all housing is linked, as in Usiebenpole. This elevated public space with a wide range of amenities distributed over several decks combined with a public transport system (monorail) forms the 2,65 km long backbone of the quarter. The car-oriented functions (situated as a rule in the periphery) are distributed along the car tunnel and other large amenities are on ground level. The various facilities are clustered into handy design units to compose a function arrangement score. The close link with public space equipped with a mass transport system generates a critical social mass for a lively night and day urban life, and is the result of the quest for a high level of urban living comfort.

Brikabrak
The next model, Dinkytown (1998-99, scale 1:333), in fact Brikabrak improved, was also for 9.500 inhabitants still living in a bent, folded and fragmented profile of "Cité Radieuse", but now for the first time public space was based on a masterplan set down in 3 different arrangement scores for the bridge, ground and car-tunnel level, each with different formal strategies. So the spine length could be shortened to 2 km.


Dinkytown

With Octopus for 38.000 inhabitants (1999, scale 1:2000), linearity was broken and 4 spines were now interlaced. Although the model, on a smaller scale than the two earlier models, is less detailed, the study further evolved towards a mere spatial choreography. Next to 19.000 inhabitants living in the legs Brikabrak and Dinkytown, again housing is organized in a Cité Radieuse profile, here specifically in the form of a defragmented pentagram, suggesting a kind of center in-between the 8 legs.


Octopus
Vipcity (1999-2004),counting 76.000 inhabitants comprising Octopus, reached the size of a small regional town.  Here however, housing for the additional 38.000 inhabitants is organized deadpan in freestanding villas on 15.140 individual lots, located around Octopus in a warped rectangle with divine proportion.  The new urban facilities needed are linked to office buildings distributed over a 7,5 km long public spine, also with a private and a mass transport system.  The merely aleatoric arrangement score, though more and more elaborated, results in a strong, articulated architectural setting.


Vipcity
The whole projective study generated a final model, called  'The Nautical Mile' (2004, scale 1:100), of a 1,852 km long section of the new spine.
To a certain extent The Nautical Mile is for now the final result of an urban research by design that started in 1972 with the iconic Proposals, over Scale & Perspective and different infrastructural projects. The model is set up as a structural frame, with no fixed program but with an elaborate, complex, long lasting, sculptural, and guiding structure that will direct the future programmatic development.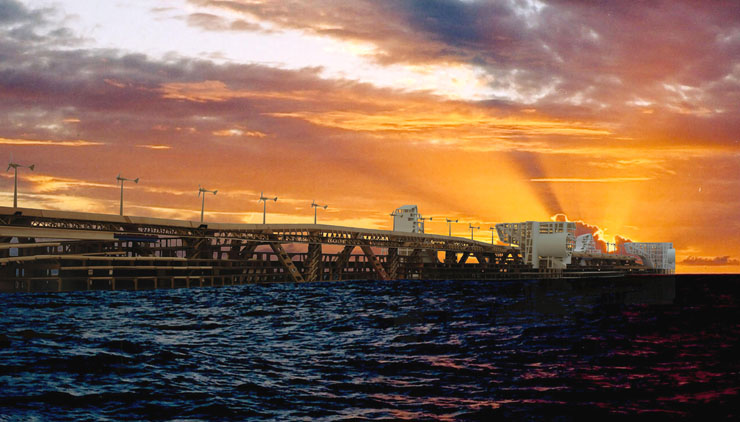 Vipcity, The Nautical Mile
Orban Space, (2006-)
For this still developing study Luc Deleu even undertook a sailing world tour from Palermo (2007) to Richard's Bay (2010) on board of sailing yacht La Malu II.
The intention of this theory through praxis is first of all to situate public space in the universal world, including the virtual and material public space, but focussing primarily on the physical and built environment.  The aim is to develop a kind of scaleless concepts and  projects for public space in varying magnitude.
An analytical phase develops a profound study of infrastructure leading from the most outward to the forum and presents a kind of classification of public spaces - ranging from planetary to street, from wilderness to the most domesticated and sophisticated, from public to nearly private.
Moreover, all relevant notions are assembled in a image/text document called "Terminology", a comprehensive glossary assembling a wide range of subjects.  
Node X (2010-2012) is a first imagineering attempt for such a series of architectonic-urbanistic, scaleless models.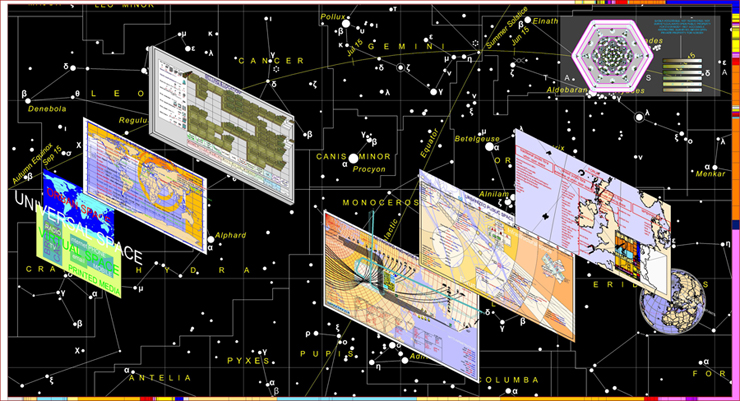 Orban Space
In the meantime RESEARCH BY DESIGN was applied for a study for the Brussels Royal Music Academy (2008-2011).