After they settled in house "Les Nénuphars", in the prestigious Cogels Osylei in Antwerp, Belgium in May 1968, Luc Deleu and his wife Laurette Gillemot founded T.O.P. office, a studio for urbanism and architecture in 1970.
Starting point, motivation and goal of the studio was questioning architecture and urban design, their position and duty in a global society.  This generated the necessity to think about why and how to run an architect studio and how to direct it towards a truly independent and autonomous development with the use of a large set of media.  So, T.O.P. office was set up with the very conviction that it would be better to reduce the spatial impact of building and to build less.
Convinced  that future developments in communication media would enable a reborn nomadic life, the first ideas were to come with work that emphasizes mobility versus the immobilism of real estate and to contradict the exclusive privilege of the building as living and job accomodation.
From 1972 to 1980, a series of  mind-blowing, mostly bottom-up proposals were formulated, featuring a tolerant urbanism for a tolerant society, imagining an ecological urban planning perspective and true citizen participation, as it were a plea for "avant la lettre" sustainability (see for instance the Brundtland Report 1987).  In 1980 these points of view crystallized in the Orban Planning Manifesto, which emphasizes the responsibilities of Architecture and Building and remains the core of T.O.P. office's  mission. "As, apart from the solar energy,  planet earth is completely self-dependent, with one third of the world population starving, 'free space' (in the agglomerations) should as much as possible be used for food production …  So, living will have to be organized a lot more efficiently, urban space much more intensively… Individuals should be able to organize their living individually while the macro enterprises should be subjected to very stringent rules… pollution should be restricted to a minimum and the organic refuse recycled; the spatial reserve of oceans and seas could be used by housing people on passenger ships…   In short : town planning and architecture should be considered from a new, 'orbanic' point of view. The town planner has become primarily a theoretician, who in rare cases realizes his visionary views on spaces of  planet earth. 'Free space' is his goal from now on."
Next, T.O.P. office started with a consistent formal research and a strategy for a multi-layered design was developed. Of special importance is the formal research "Scale & Perspective" on manipulation of identical volumes – standing up or lying down, head to foot .  Over the years, the studio evolved with an ever varying number of collaborators.
Since 1997, when Isabelle De Smet  and Steven Van den Bergh both joined T.O.P. office and became staff members,  the research becomes more continuous and aims at more elaborate concepts.  Particularly "The Unadapted City" and "Orban Space" become a new and important work field.  Aleatory techniques and stochastic processes provoking autopiloted design are developed as studio strategies. Next to a strict rationality, T.O.P. office tries more an more to get hold of the synchronicity of things in the process of creation.  Late eighties of last century, the research already shifted towards infrastructures.  Convinced that those normally top-down projects also need a bottom-up approach the studio engaged mid 1990 in a number of elaborate concepts to get freedom organized.
On many occasions - apart from  being an independent research team developing an  autonomous format for urban research by design – T.O.P office participated in the debate on urban planning and architecture, and therefore maybe ended up in a certain niche.  After a long period of building up expertise, the studio is now ready to consolidate its knowledge and to put its know-how into more practice through research commissions and through realizing projects in the realm of building.  Hence, T.O.P. office has been committed more to evolve towards a practicing studio.  By the experience acquired over years of research the studio is specialized in organizing very large and complex programs and meanings, sometimes in an oversized monumentalism, but always with imaging concepts and a planetary point of view,  bearing the earth's scale in mind.
The ongoing research is Orban Space,  designing public space in a global context.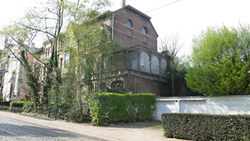 Les Nénuphars, establishment of T.O.P offce (1970), set up of an urban woodland (1971), rebuilding and consolidation (1970-1998)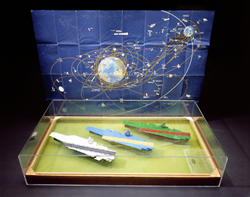 Mobile Medium University revisited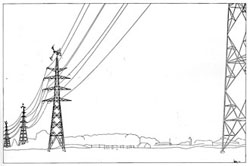 Proposal for a worldwide windmill net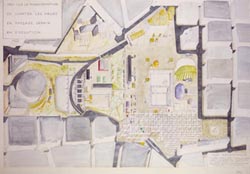 Competition design for Les Halles, Paris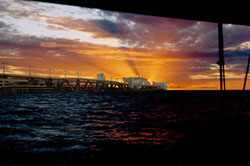 Vipcity, the nautical mile



The Unadapted City, application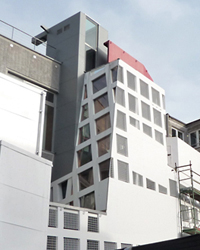 Belle-epoquecenter; Blankenberge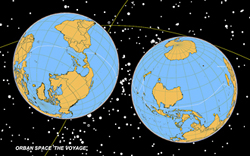 Orban Space, the voyage